Słowiński National Park
Słowiński National Park
is a National Park in Pomeranian Voivodeship, northern Poland. It is situated on the Baltic coast, between Łeba and Rowy.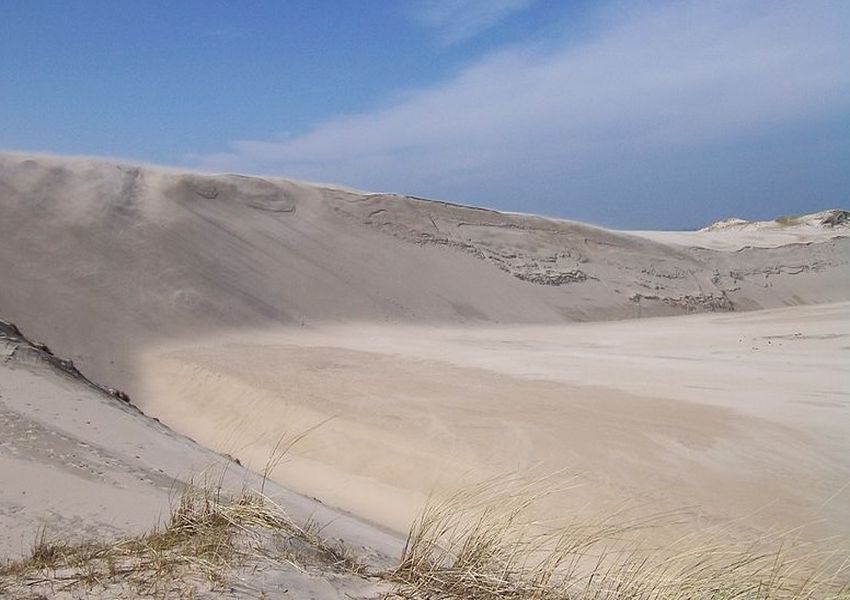 The northern boundary of the Park consists of 32.5 kilometres (20.2 mi) of coastline.
In 1977 UNESCO designated the Park a biosphere reserve under its Programme on Man and the Biosphere (MaB). The Słowiński wetlands were designated a Ramsar site in 1995.
The Park is named after the Slavic (later Germanized) people known as the Slovincians (Polish: Słowińcy), who used to live in this swampy, inaccessible area at the edge of Lake Leba. In the village of Kluki there is an open air museum presenting aspects of this people's former life and culture.
In the past, the park's area was a Baltic Sea bay. The sea's activity, however, created sand dunes which in the course of time separated the bay from the Baltic Sea. As waves and wind carry sand inland the dunes slowly move, at a speed of 3 to 10 meters per year. Some dunes are quite high - up to 30 meters.
The highest peak of the Park Rowokol (115 meters above sea level) is also an excellent observation point. The "moving dunes" are regarded as a curiosity of nature on a European scale.
Waters, which occupy 55% of Park's area, are made up of lakes - Łebsko (71.40 km2, maximum depth 6.3 m), Gardno (24.68 km2, maximum depth 2.6 m) and Dolgie Wielkie (1.46 km2, maximum depth 2.9 m). Both Lebsko and Gardno lakes were previously bays. There are also 7 rivers crossing the Park, the largest being the Łeba and the Łupawa.
Forests in the Park are mainly made of pines. These trees cover 80% of wooded areas, there are also peat bogs of several types. Of animals, most numerous are birds with 257 species. This is because Park is located on the paths of migrating birds. They feel safe here because human activities are limited. The most interesting species are: erne, eagle owl, crow, swan and various kinds of ducks. Among mammals, one has to point out deer, elk, wild pig and hare.
Travelpoland.info offers - Flights to Poland - Bus and Coach - Hotels in Poland