Licheń
Licheń
constantly attracts crowds of pilgrims. They rush to see the painting of the Virgin Mary, the Sorrowful Queen of Poland as well as the biggest Polish temple, probably one of the biggest sacred buildings in Europe. It has been built since 1994, and its sumptuousness is literally breathtaking.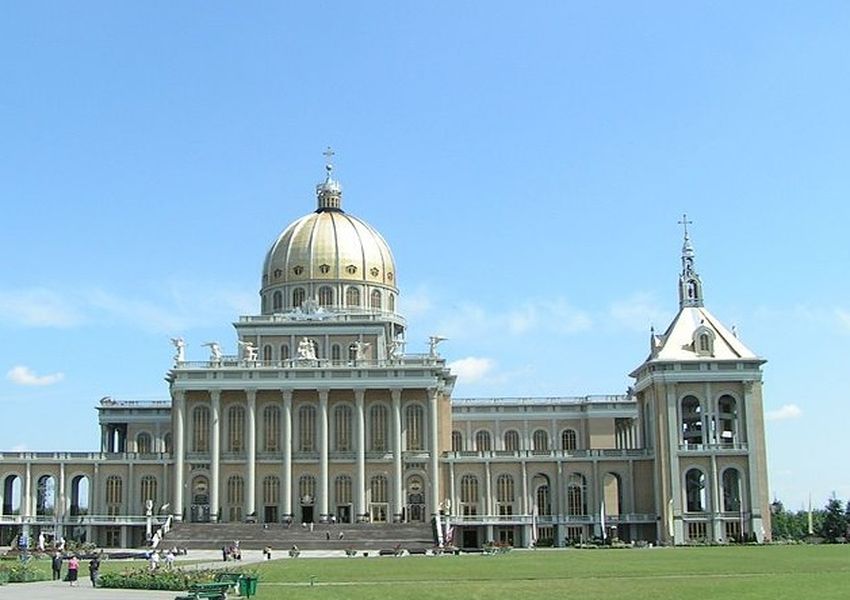 The temple, designed by Barbara Bielecka, is a five-nave transept cruciform basilica (Latin cross) with a semicircular chancel. Its façade is headed by an impressive column portico.
The whole building is covered with an enormous golden dome, visible from the distance of almost twenty kilometers. It has been estimated that the church can house 7000 people.
The miraculous painting is placed in St Dorota's Church (neo-Gothic architecture).
The tradition has it that it was found by Tomasz Kłossowski (a soldier and ex-landowner who had lost his fortune and taken on smithery) on his way back home from the Napoleonic wars. He hung the painting on a tree and, later, it turned out that it had miraculous power.
Apart from the new basilica and St Dorota's Church, tourists can also visit the Czestochowska Virgin Mary's Church as well as take a walk in the surrounding park and admire numerous sacred and patriotic objects, such as a stone Golgotha or the monument of pope John Paul II.
Info: Virgin Mary's Sanctuary, ul. Klasztorna 4, 62-563 Lichen Stary
www.lichen.pl
Travelpoland.info offers - Flights to Poland - Bus and Coach - Hotels in Poland