National Parks in Lesser Poland
National Parks in Lesser Poland around Cracow / Kraków
the largest of Lesser Poland's parks, the Tatra National Park, protects the post-glacial, alpine mountainscape of the rocky Tatras Poland's highest mountains, reaching almost 2,500 m asl (Almost, as Rysy, the highest Polish peak, stands 2,499 m asl.) together with their natural environment.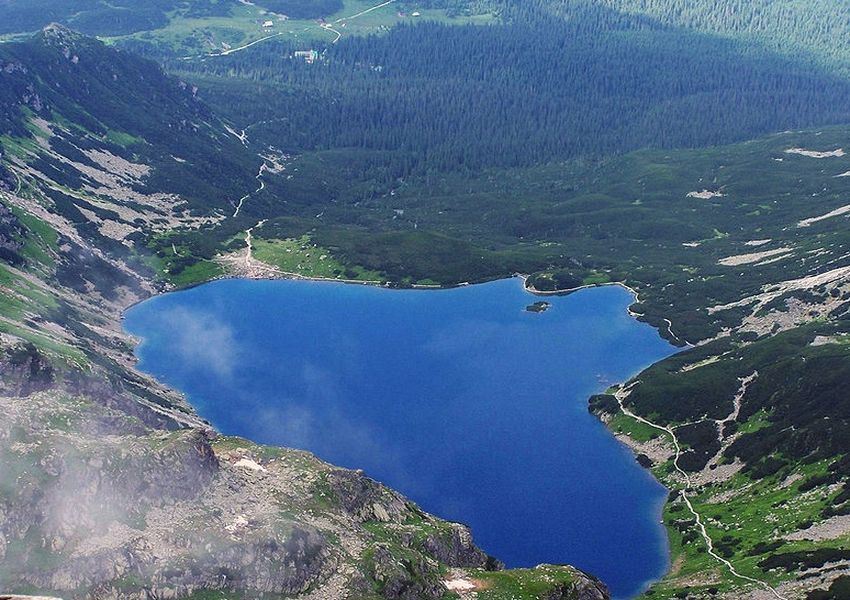 This is the only location in Poland where you can see the marmot (Marmota marmota) and the chamois (Rupicapra rupicapra). Be careful though with the brown bear: an encounter may turn dangerous!
Dominant over the Babiogórski National Park situated in the south of Małopolska is Mount Babia Góra (1,725 m asl.), the highest peak of the Beskidy.
The massif of Babia Góry is a part of the European Watershed: rivers originating on its northern slopes run to the Baltic Sea, and those from the southern to the Black Sea. The ridge commands beautiful panoramas of the Tatras; they look best at sunrise and sunset.
The entire Pieniński National Park lies within the Pieniny Mountains, known for the Dunajec Gorge, sheer drops of rocky promontories of Trzy Korony and Sokolica, and the unbelievable abundance of the fauna.
Over 13,000 species are represented within this small (only 23.5 sq.km) park, that is a representative of every other species of Polish fauna is present here! In Pieniny, only butterflies are represented by 1,555 species, 20 of which are endemic for mountainous regions.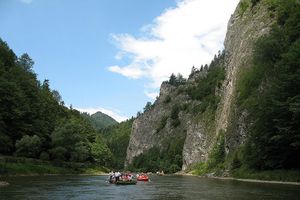 The Ojcowski National Park is Małopolska's smallest; it protects the Jurassic landscape of the Prądnik River Valley, known for the fantastically shaped rocks with suggestive names: Hercules' Mace (known also as Club of Hercules, and Hercules Rock), Diotima's Needle, and Kraków Gate. Visitors enjoy visiting the Ciemna Cave and the Cave of King Ladislaus the Elbow-High (Łokietek).
A local peculiarity are numerous beaver lodges, and bat colonies in the caves. Surrounded by the beautiful landscapes, and interesting world of the fauna and flora stands the Renaissance Castle in Pieskowa Skała and ruins of the medieval fortress in Ojców. Definitely worth visiting.
The Gorczański Park Narodowy is situated within the Gorce Mountains and is almost entirely (95%) covered by forests that envelop the gentle peaks of the Gorce: Turbacz, Kudłoń, and Gorc. The reward for climbing them are the panoramas of the mountainous ranges of the Tatras, Pieniny, and Beskidy.
The fire salamander (Salamandra salamandra) is the symbol of the park and Poland's largest tailed amphibian (caudata). The salamanders are especially easy to find after rains, in the evening or at night.
Situated in the north-eastern part of Małopolska, the Magurski Park Narodowy is one of Poland's and Europe's most abundant wildlife habitats. It is one of Europe's last corners to be inhabited by wildcats (Felis silvestris) and lynxes.
Brown bears only visit the park, whose permanent inhabitants include wolves, deer, wild pigs, and badgers. Local birds include the lesser spotted eagle (Aquila pomarina), which, not unlike several other species (including birds, bats, and fishes), was entered into the Polish Red Book of Endangered Species.
Info: poland.gov.pl
Travelpoland.info offers - Hotels - Bus and Coach - Flights to Cracow / Kraków
Advertising - Top 3 Hotels in Cracow / Kraków
Advertising - Top 3 Hotels in Lesser Poland