Cloth Hall in Cracow
Cloth Hall in Cracow / Kraków
the first stone building erected in the square after the city had received its charter in 1257 stood in the place where the Cloth Hall is situated.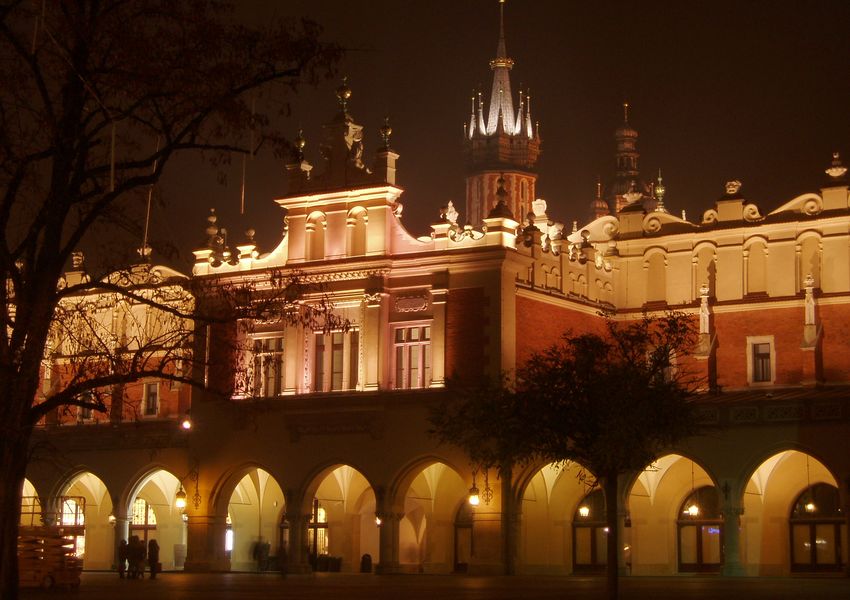 dates to the Renaissance and is one of the city's most recognizable icons. It is the central feature of the main market square in the Kraków Old Town.
It was once a major centre of international trade. Traveling merchants met there to discuss business and to barter. During its golden age in the 15th century, the hall was the source of a variety of exotic imports from the east – spices, silk, leather and wax – while Kraków itself exported textiles, lead, and salt from the Wieliczka Salt Mine.
Kraków was Poland's capital city and was among the largest cities in Europe already from before the time of the Renaissance. However, its decline started with the move of the capital to Warsaw in the very end of the 16th century. The city's decline was hastened by wars and politics leading to the Partitions of Poland at the end of the 18th century.
By the time of the architectural restoration proposed for the cloth hall in 1870 under Austrian rule, much of the historic city center was decrepit. A change in political and economic fortunes for the Kingdom of Galicia and Lodomeria ushered in a revival due to newly established Legislative Assembly or Sejm of the Land. The successful renovation of the Cloth Hall, based on design by Tomasz Pryliński and supervised by Mayor Mikołaj Zyblikiewicz, Sejm Marshal, was one of the most notable achievements of this period.
The hall has hosted many distinguished guests over the centuries and is still used to entertain monarchs and dignitaries, such as Charles, Prince of Wales and Emperor Akihito of Japan, who was welcomed here in 2002. In the past, balls were held here, most notably after Prince Józef Poniatowski had briefly liberated the city from the Austrians in 1809. Aside from its history and cultural value, the hall still is still used as a center of commerce.
In the immediate vicinity of the hall, the Great Weigh House and the Small Weigh House existed until the 19th century. Info: wikipedia
Travelpoland.info offers - Flights to Poland - Bus and Coach - Hotels in Poland
Advertising - Top 3 Hotels in Cracow / Kraków
Advertising - Top 3 Hotels in Lesser Poland