Castle in Ostróda
Ostróda - The castle of the Teutonic Knights
the first earth and timber fort was raised here by the Teutonic knights in the mid-13th century. It stood in the fork between the Drwęca river branches, replacing an earlier Prussian stronghold. Construction of a brick castle built on a stone foundation was started by the Ostróda Commnader around 1349.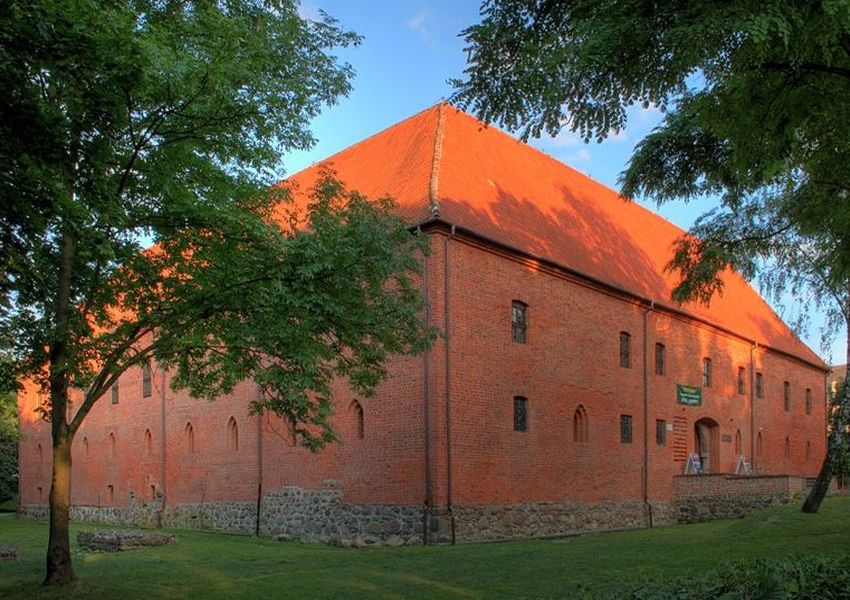 The old earth and timber fortress together with the unfinished brick castle were hit by a fire during a Lithuanian raid commanded by duke Kiejstut in 1381. Soon afterwards a new brick castle was built.
The convent castle was constructed on a square plan, 44.7 x 45.2 m externally. Originally it had four wings with an archway in the west wing. Recently, the castle has been restored in the shape it had after the fire in 1788. Three wings (south, wet and north) have been preserved, although they lack the topmost storey, which was used for defense and storage. Some researchers claim that the castle had a tower in the south-east corner.
To the north, there was a sanitary tower, most probably connected with the north wing of the castle by a wooden walk. During the archeological excavations at the castle, the bases of pillars were unearthed, which may have supported the wooden gallery leading to the sanitary tower.
After the battle of Tannenberg, for two months Ostróda castle remained in the hands of Duke of Masovia, Janusz Mazowicki, who received the castle from the Polish King Władysław Jagiełło. In September 1410 the castle returned to the Teutonic Knights. In 1629 the Swedish King, Gustav Adolph resided at Ostróda castle. For six years, from 1633 to 1639, the castle was ruled by the Silesian Duke of Legnica and Brzeg, John Christian.
In the great fire of Ostróda in 1788, the flames reached the castle, where large quantities of gunpowder were stored in the east wing at that time. Soon a gigantic explosion damaged the east wing and the castle roofs. Although the castle was rebuilt, it did not regain its previous shape - the east wing was not reconstructed and the whole castle was one storey lower. In the 19th century the walls were plastered and many extensions were added to the castle building.
Travelpoland.info offers - Flights to Poland - Bus and Coach - Hotels in Poland
Advertising - Top 3 Hotels in Warmian and Masurian