Czocha Castle
Czocha Castle
began as a stronghold, on the Czech-Lusatian border. Its construction was ordered by Wenceslaus I of Bohemia, in the middle of 13th century (1241 - 1247). In 1253 castle was handed over to Konrad von Wallhausen, Bishop of Meissen.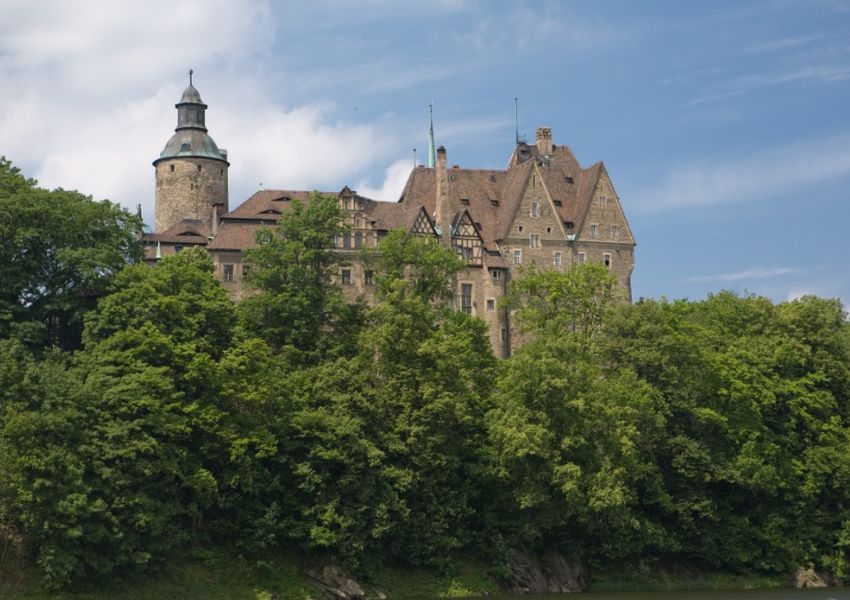 In 1319 the complex became part of the dukedom of Henry I of Jawor, and after his death, it was taken over by another Silesian prince, Bolko II the Small, and his wife Agnieszka (see Duchy of Silesia). Origin of the stone castle dates back to 1329.
In the mid-14th century, Czocha Castle was annexed by Charles IV, Holy Roman Emperor and King of Bohemia.
Then, between 1389 and 1453, it belonged to the noble families of von Dohn and von Kluks. Reinforced, the complex was besieged by the Hussites in the early 15th century, who captured it in 1427, and remained in the castle for unknown time (see Hussite Wars). In 1453, the castle was purchased by the family of von Nostitz, who owned it for 250 years, making several changes through remodelling projects in 1525 and 1611.
Czocha's walls were strengthened and reinforced, which thwarted a Swedish siege of the complex during the Thirty Years War. In 1703, the castle was purchased by Jan Hartwig von Uechtritz, influential courtier of Augustus II the Strong. On August 17, 1793, the whole complex burned in a fire.
In 1909, Czocha was bought by a cigar manufacturer from Dresden, Ernst Gutschow, who ordered major remodeling, carried out by Berlin architect Bodo Ebhardt, based on a 1703 painting of the castle. Gutschow, who was close to the Russian Imperial Court and hosted several White emigres in Czocha, lived in the castle until March 1945. Info: wikipedia
Travelpoland.info offers - Flights to Poland - Bus and Coach - Hotels in Poland