The Książ Castle - Wałbrzych
The Książ Castle - Wałbrzych
the original fortification was destroyed in the year 1263 by Ottokar II of Bohemia.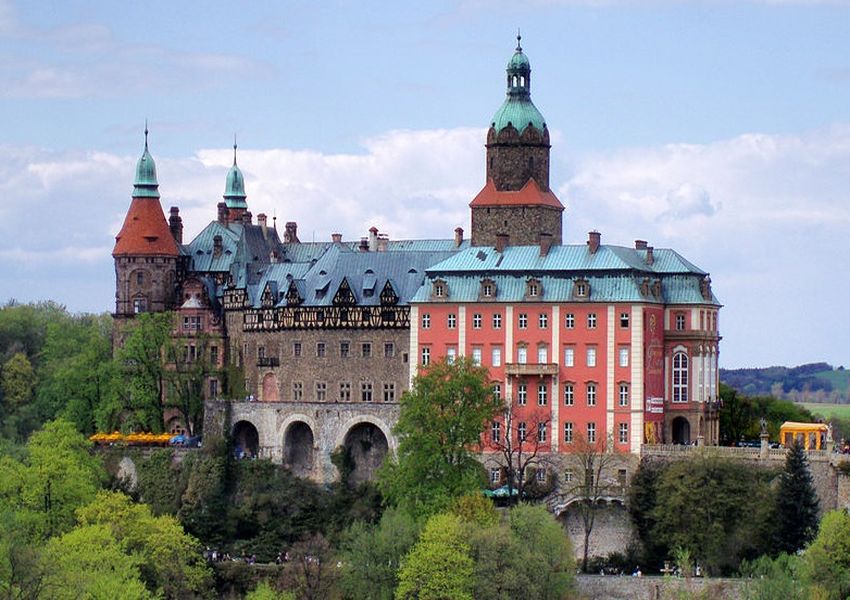 Bolko I, Duke of Świdnica and Jawor built a new castle between 1288 and 1292. Duke Bolko II of Świdnica died in 1368 without having children with his wife Agnes von Habsburg.
After her death in the year 1392 King Wenceslaus IV of Bohemia obtained the castle. In 1401 Janko z Chociemic obtained the castle.
The Bohemian Hussites occupied the castle between 1428-1429. In the year 1464 Birka z Nasiedla obtained the castle from the Bohemian crown.
He sold it to Hans von Schellendorf. This second castle was destroyed in 1482 by Georg von Stein. In the year 1509 Konrad I von Hoberg (from 1714 Hochberg) obtained the castle hill.
The Hochberg family owned the castle until 1941. It was a part of the Project Riese until 1945. The castle was occupied by the Red army in 1945. Most artifacts were lost or destroyed. Info:wikipedia
Travelpoland.info offers - Flights to Poland - Bus and Coach - Hotels in Poland