Szczecin
Szczecin
is located on the Oder River, south of the Szczecin Lagoon and the Bay of Pomerania. The city is situated along the southwestern shore of Dąbie Lake, on both sides of the Oder and on several large islands between the western and eastern branches of the river. Szczecin borders with the town of Police, the seat of Police County, situated on an estuary of the Oder River.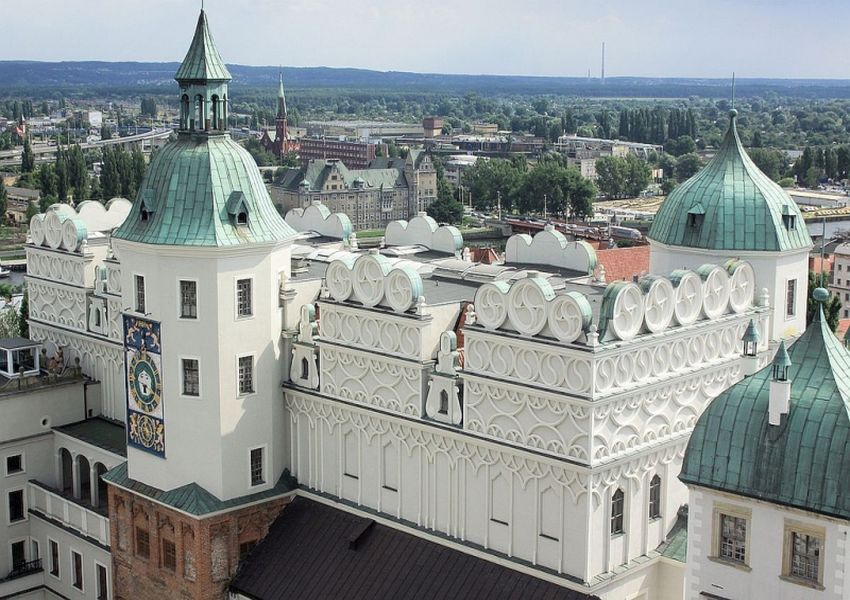 is the capital city of the West Pomeranian Voivodeship in Poland. It is the country's seventh-largest city and the largest seaport in Poland on the Baltic Sea.
The city's beginnings were as an 8th century Slavic Pomeranian stronghold, built at the site of today's castle. In the 12th century, when the surrounding settlement had become one of Pomerania's main urban centers, it subsequently lost its independence to Piast Poland, Saxony, the Holy Roman Empire and Denmark.
At the same time, the Griffin dynasty established themselves as local rulers, the population was converted to Christianity, and first German settlers arrived, gradually assimilating the Slavs in the following centuries. In 1237/43, the town was built anew and granted vast autonomy rights, it subsequently joined the Hanseatic League. Szczecin's oldest, Brick Gothic buildings date back to that period.
In the following centuries, the Griffins again erected a castle in the town and made it one of the Duchy of Pomerania's main residences. After the town became Swedish, it was fortified and remained a Swedish fortress until 1720, when it was taken over by Prussia and became capital of the Province of Pomerania. In the late 19th century, Stettin became an industrial town, was de-fortified and vastly increased in size and population. During the Nazi era, the city's Jews were deported, Poles were subjected to repression. After Germany was defeated by the Allies in 1945, Szczecin became part of People's Republic of Poland. With the remaining and returned Germans expelled after the war, Poles rebuilt and resettled the city, which became capital of the Szczecin Voivodeship. It played an important role in the anti-communist uprisings of 1970 and the rise of Solidarity trade union in the 1980s. Info:wikipedia
Travelpoland.info offers - Flights to Poland - Bus and Coach - Hotels in Poland