Lublin
Lublin
the location of the Old Town in Lublin is second to none. So is the mediaeval urban design and the authentic ornamentation of centuries' old burgher houses, showpieces for every tourist. Surrounded by a fortified wall, the Old Town abounds in monuments of architecture from various epochs.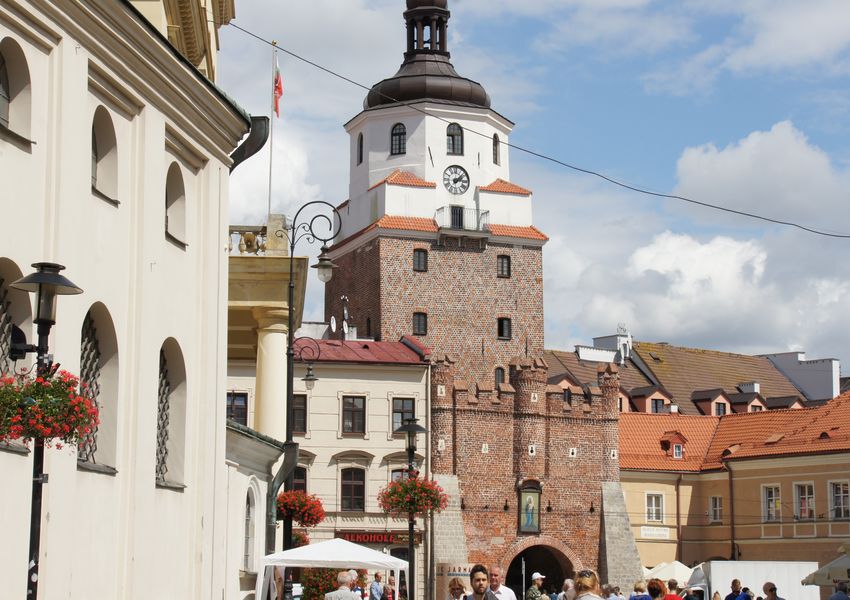 Genuine treasures include the Market Place lined with fine burgher houses, 14th c. Krakowska and Grodzka Gates, Church and Monastery of the Dominican Order, and the formidable edifice of the Crown Tribunal whose cellars mark the beginning of the Tourist Underground Route.
Among the most beautiful 16th c. Renaissance houses are the House of the Konopnica Family at Rynek 12, Klonowic's House No.2 or the House of the Lubomelski Family at Rynek 8.
The Old Town is a popular place for tourists and local inhabitants, and with a bit of imagination, one can hear hubbub of mediaeval merchants and artists. During the Jagiellonian Fair held every August, the Old Town is a particularly busy place with many cultural events and dozens of market stalls.
The 14th c. Roman Catholic Holy Trinity Chapel in the castle is by far a gem of international repute, which now bears the European Heritage sign. Built by King Casimir the Great, the chapel is decorated with amazing Russo-Byzantine frescoes commissioned by King Ladislas Jagiełło.
The chapel is considered one of the most fascinating places in Europe, a living proof of the coexistence of Eastern and Western cultures here in Lublin: the Roman Catholic temple decorated with images of the founding fathers of the Orthodox Church.
Next to the chapel stands a 13th c. defence tower, the oldest monument of Lublin architecture. The original castle was totally destroyed and the present building was originally built by the Russian authorities in the first half of the 19th c. as a prison. Today, the castle houses the Lublin Museum, which contains several sections including archaeology, coins, arms, ethnography, decorative art, and painting.
The rich collection of paintings includes the famous Lublin Union by Jan Matejko and many others works of art by distinguished Polish and foreign artists. Info lublin.pl
Travelpoland.info offers - Flights to Poland - Bus and Coach - Hotels in Poland