Main Market Square
Main Market Square in Cracow / Kraków
is one of the 23 national parks in Poland, located in the southern part of the country, in Lesser Poland Voivodeship, on the border with Slovakia.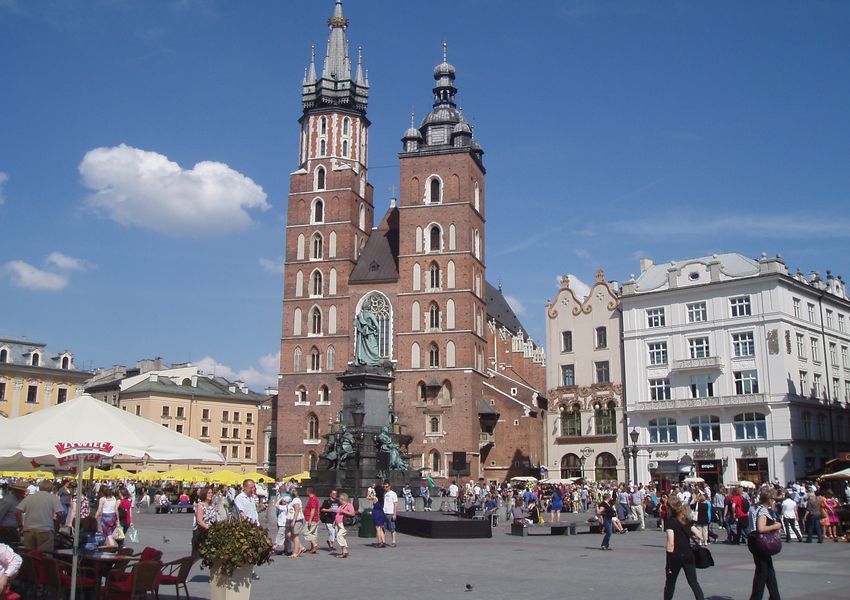 The Main Market Square is the heart of the royal city of Krakow. A life full of joy and inspiration passes here throughout the day and night, and the spirit of the centuries-old history of this important European city watches over everything.
The Square, whose dimensions are 40,000 m², is one of the largest medieval town squares in Europe. To this day, it is one of the most frequently visited places by out-of-country tourists. In this square, conversations in every language of the world can be heard. Thanks to its size and its preserved architecture from 1257 A.D., the Main Square has been placed on the UNESCO list of World Heritage Sites.
Almost all of the townhouses and the palaces situated around the Square and within the area of Planty Park are centuries old. The mysteries from the past are also hidden underground and tourists can discover them through a special route. The most famous building is Cloth Hall, the medieval (and contemporary) center of Krakow's trade. The gothic church with two towers and with a magnificent altarpiece carved by Veit Stoss is St. Mary's Basilica, from where the famous trumpet signal, called hejnał, is played every hour.
The legendary statue of Adam Mickiewicz can be found in the middle of Market Square, surrounded by colourful umbrellas and flowers sold by Krakow's florists. Not far from the statue, the entrance to the amazing Underground Square is located. From here tourists can discover aspects of the city that they wouldn't otherwise get to know. Behind St. Mary's Basilica is Mały Rynek (The Little Market Square), full of holiday and folk fairs. During your visit to the Market Square, you may even be lucky enough to see the legendary Lajkonik. Regardless, you will have a chance to take pleasure in the company of the local pigeons, who like to be fed with Krakow's obwarzanek (bagel); a local delicacy. The Main Market Square is a place of many summer festivals, meetings, street musicians, lovely cafes and restaurants. Here, like nowhere else, you will see how the present meets the past.
Travelpoland.info offers - Flights to Poland - Bus and Coach - Hotels in Poland
Advertising - Top 3 Hotels in Cracow / Kraków
Advertising - Top 3 Hotels in Lesser Poland