Gniezno
Gniezno
strikes as the city of many diff erent faces. It is associated with the legend of a white eagle that flew high into the air above the heads of Lech, Czech and Rus, who, impressed by its beauty, decided to found a city here.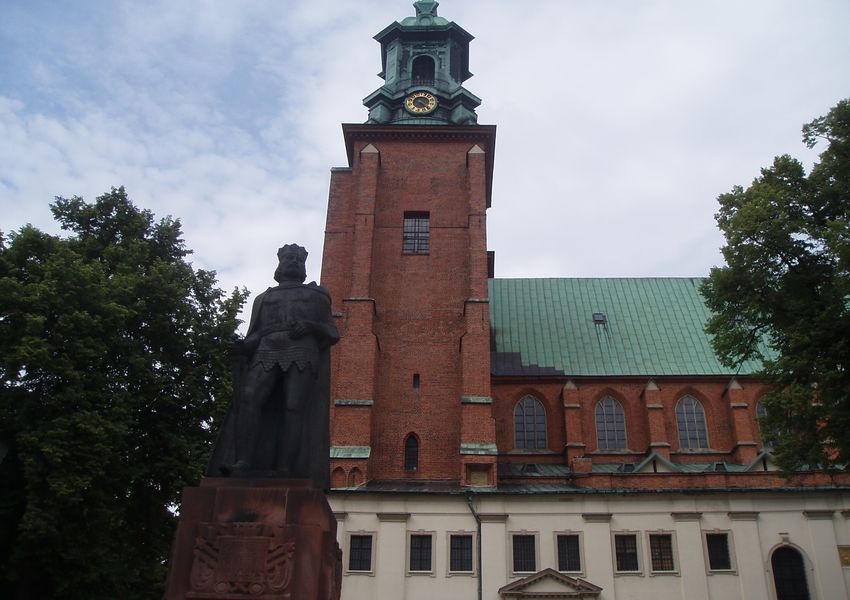 It was also the first, very powerful, capital of the (new-born) Polish state, the venue of the contemporary key political events, such as the Gniezno Convention in the year1000.
Gniezno is also known for its cathedral in which the first Polish rulers were crowned. Finally, as stated by the Congregation for the Divine Worship and the Discipline of the Sacraments of the Roman Curia (1994), the city has a patron the martyr bishop St Wojciech.
Thee Virgin Mary's Ascension's arch-cathedral basilica is the most magnifi cent witness of the millennial history of the city. Over generations, the building has been extensively redecorated and massively ornamented so that nowadays it forms a rich, yet unanimous entity.
The Romanesque vaults, Gothic shape and circle of surrounding Baroque chapels as well as abundance of valuable ornaments make it a pearl of the Polish culture and place it high on the list of the top European monuments.
Although the Gniezno basilica contains numerous objects of historical relevance, two of them literally overshadow the rest. These are the Gniezno Door and St Wojciech's relics. The relics are placed in the chancel, resting in an early Baroque silver reliquary resembling a coffin the lid of which is ornamented with a sculpture of a man wearing bishop's gowns.
The reliquary is placed under the Baroque confessional (restored in the 90's of the 20th century) imitating Bernini's work from St Peter's basilica in Rome.
The history of St Wojciech's life and death, divided into 18 stages and presented on the bronze door is the supreme work of Romanesque art in Poland. It was cast in approximately 1170-1180, most probably in Gniezno, by artists from Moza. The door is decorated with flower-shaped ornaments, figures of people, animals, as well as various scenes depicting hunting and fighting. In order to read the depicted history one should start from the bottom on the left wing and proceed clockwise.
Travelpoland.info offers - Flights to Poland - Bus and Coach - Hotels in Poland