Gdańsk
Gdańsk
is a Polish city on the Baltic coast, at the centre of the country's fourth-largest metropolitan area.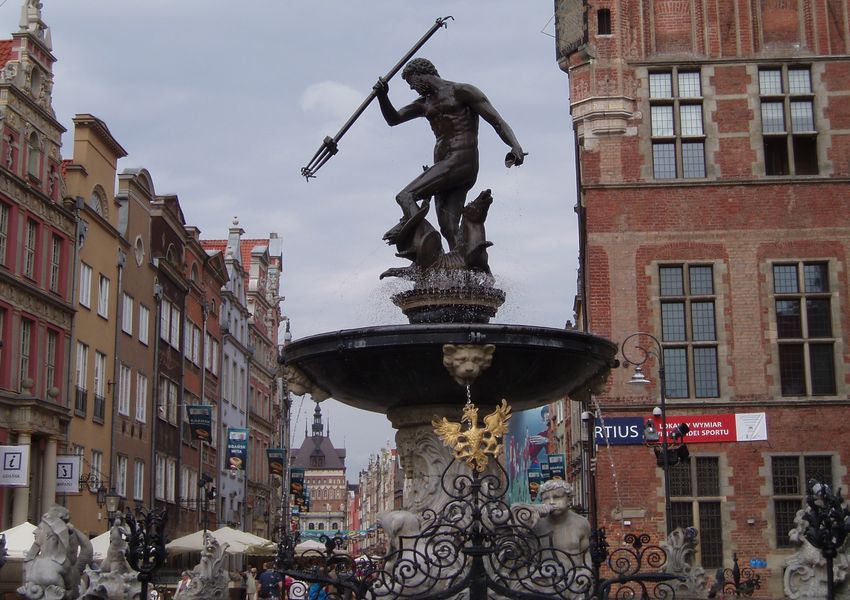 The city lies on the southern edge of Gdańsk Bay (of the Baltic Sea), in a conurbation with the city of Gdynia, spa town of Sopot, and suburban communities, which together form a metropolitan area called the Tricity.
The city is close to the former late medieval/modern boundary between West Slavic and Germanic lands and it has a complex political history with periods of Polish rule, periods of German rule, and extensive self-rule, with two spells as a free city. It has been part of modern Poland since 1945.
Gdańsk is situated at the mouth of the Motława River, connected to the Leniwka, a branch in the delta of the nearby Vistula River, whose waterway system supplies 60% of the area of Poland and connects Gdańsk to the national capital in Warsaw.
This gives the city a unique advantage as the centre of Poland's sea trade. Together with the nearby port of Gdynia, Gdańsk is also an important industrial centre. Historically an important seaport and shipbuilding centre, Gdańsk was a member of the Hanseatic League.
Main sights
The city has many fine buildings from the time of the Hanseatic League. Most tourist attractions are located along or near Ulica Długa (Long Street) and Długi Targ (Long Market), a pedestrian thoroughfare surrounded by buildings reconstructed in historical (primarily 17th century) style and flanked at both ends by elaborate city gates. This part of the city is sometimes referred to as the Royal Road as the former path of processions for visiting kings.
Walking from end to end, sites encountered on or near the Royal Way include:
Upland Gate (Brama Wyżynna)
Torture House (Katownia)
Prison Tower (Wieża więzienna)
Golden Gate (Złota Brama)
Long Street (Ulica Długa)
Uphagen House (Dom Uphagena)
Main Town Hall (Ratusz Głównego Miasta)
Long Market (Długi Targ)
Artus' Court (Dwór Artusa)
Neptune Fountain (Fontanna Neptuna)
Golden House (Złota kamienica)
Green Gate (Zielona Brama)
Gdańsk has a number of historical churches:
St. Bridget
St. Catherine
St. John
St Mary (Bazylika Mariacka), a municipal church built during the 15th century, is the largest brick church in the world.
St Nicholas' Church
Church of the Holy Trinity
Travelpoland.info offers - Flights to Poland - Bus and Coach - Hotels in Poland