The Christmas Market in Wrocław
The Christmas Market in Wrocław
on 20nd of November, one of the most beautiful Christmas Markets will begin in Wrocław. Yet before it starts, the market square in Wrocław will become the building site for the Christmas Market's infrastructure. The installation and preparations have already begun. The great countdown until the opening is on!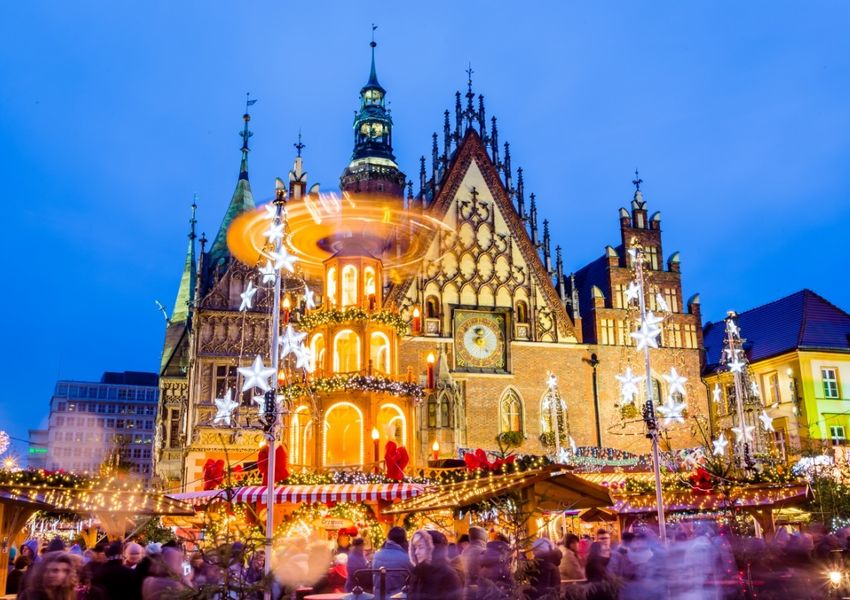 This yearss Christmas Market will be exceptionally surprising. There will be plenty of novelties that are hard to find at other fairs. First of all, the area of the Christmas Market will be extended; it will include another new area - the north frontage of Wrocław's market square, and also arrive to Oławska Street. Traditionally, the wooden houses will appear on the Świdnicka Street and the southern and eastern frontage of the market square.
The new area of the Christmas Market means new attractions for the visitors. On corner of the northern and eastern frontage "The Fireplace House" with a turret will appear for the first time. The aroma of Wrocław's mulled wine and the warmth from open-air fireplaces that will warm passers-by with the heat of burning wood will attract from far away. Under the roof of the open-air fireplace one will not only find warmth, but also be able to taste delicious food. The fireplaces will be the exceptional meeting spot for friends and family.
NOVELTIES IN THE PARADISE FOR GOURMETS!
The approaching Christmas Market is also a feast for all gourmets. In Wrocław the Swiss "Chocolate Workshop" will appear for the first time, where you will find tools, hammers, nails... And everything made out of real chocolate! Delicious and surprising in their form, the chocolates are not only a heaven to the palate but also an original Christmas gift. A novelty for the connoisseurs of European delicacies will be the Dutch waffiez - delicious waffles with caramel and pancake cookies with jam. Perfect with hot tea with honey and raspberries. Enthusiasts of Hungarian cuisine will not only acquire taste for the light and aromatic kalach; they will also be able to taste the original, Hungarian Lángos.
INSPIRATIONS FOR CHRISTMAS GIFTS AT THE MARKET
In the frenzy of preparations for Christmas wehastily search for presents for our nearest and dearest. In several dozen wooden houses you will be able to choose gift for your family among handmade jewellery inspired by folk motifs, leather goods, warm caps and scarfs, handicraft, artistic ceramics and other rarities which are difficult to get.
WHAT IS STILL AHEAD OF US...
The Christmas Market in Wrocław is an exceptional time, full of the magical atmosphere of Christmas. That is why there will traditionally be the Fairy-tale Forest, the Dwarf's House, a mug of mulled wine, the Dwarf Prezentuś who will make Christmas wishes come true, a smith who will make a horseshoe with a name and Wrocław's mint master. Wrocław's market square will be the place of extraordinary, magical events... What kind of events? You will know soon! Info: jarmarkbozonarodzeniowy.com Photo: Pianoforte Agencja Artystyczna
Travelpoland.info offers - Flights to Poland - Bus and Coach - Hotels in Poland