In the Footsteps of the Jews
In the Footsteps of the Jews of Lesser Poland
among manmade heritage, seven major synagogues have survived in Kraków's district of Kazimierz, with the most interesting and largest being the Old Synagogue (Alte Schul), currently a museum.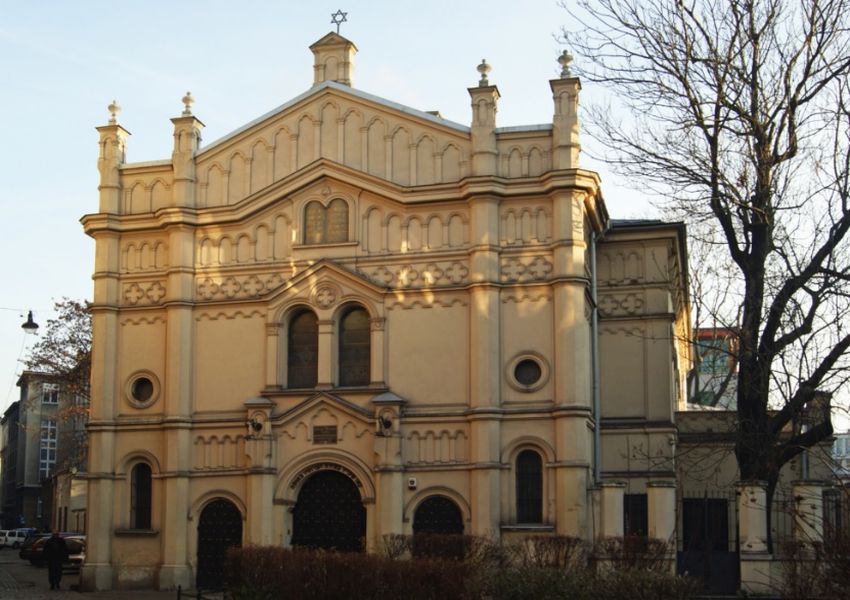 The other six are named Izaaka (Isaac), Kupa, Poppera, Remuh, Tempel, and Wysoka (The High Synagogue). There are also cemeteries: Remuh and the New Cemetery, and numerous reminders of the Holocaust and the martyrdom of the Jews. On the last Saturday of every June the week-long Festival of Jewish Culture begins in Kazimierz.
Another Judaic Museum is in Dąbrowa Tarnowska, situated 22 km/14 miles north of Tarnów. The town also contains ruins of a 19th-century synagogue and an 18th-century cemetery (ohel) with the tomb of local tzadiks.
Jewish heritage in Tarnów consists of remnants of the synagogue with the bimah, the ritual bath (mikvah), and a large cemetery. Besides these, there is a monument commemorating the First Transport of Prisoners to Auschwitz, buildings of the Jewish Credit Association, Talmud Torah Schools, public schools, and schools of the Safa Berura Association. The themed route Żydowskim Szlakiem po Tarnowie (Jewish Footsteps around Tarnów) weaves its way around the city.
Bobowa, the former seat of one of the most important Hassidic dynasties, is a village situated 45 km/28 miles south of Tarnów. It boasts a very well-preserved synagogue and equally well-preserved cemetery with the tomb of local tzadiks.
34 km/21 miles away from Bobowa lies Nowy Sącz. Its synagogue serves as a museum, with a collection of judaica and an exhibition devoted to the history of Jews of the city. One synagogue, situated in the backyard of the house at ul. Jagiellońska 12, is still in use. A tzadik tomb can also be found in the local Jewish cemetery (kirkut).
Similar monuments stand in the Jewish cemetery in Nowy Wiśnicz, with the oldest matzevahs dating back to the mid-17th century. Another Jewish cemetery with an ohel is in Bochnia, a town whose local museum also boasts a very interesting collection of judaica.
When visiting the Jewish monuments and relics in Małopolska, one must not miss Oświęcim, the site of the former Auschwitz-Birkenau death camp, now a memorial museum. Besides the death camp, also worth a visit in Oświęcim is the renovated synagogue, now serving as a prayer house. Info:regiony.gov.pl
Travelpoland.info offers - Hotels - Bus and Coach - Flights to Cracow / Kraków
Advertising - Top 3 Hotels in Cracow / Kraków
Advertising - Top 3 Hotels in Lesser Poland