The Barbican
Barbican in Cracow / Kraków
is one of the 23 national parks in Poland, located in the southern part of the country, in Lesser Poland Voivodeship, on the border with Slovakia.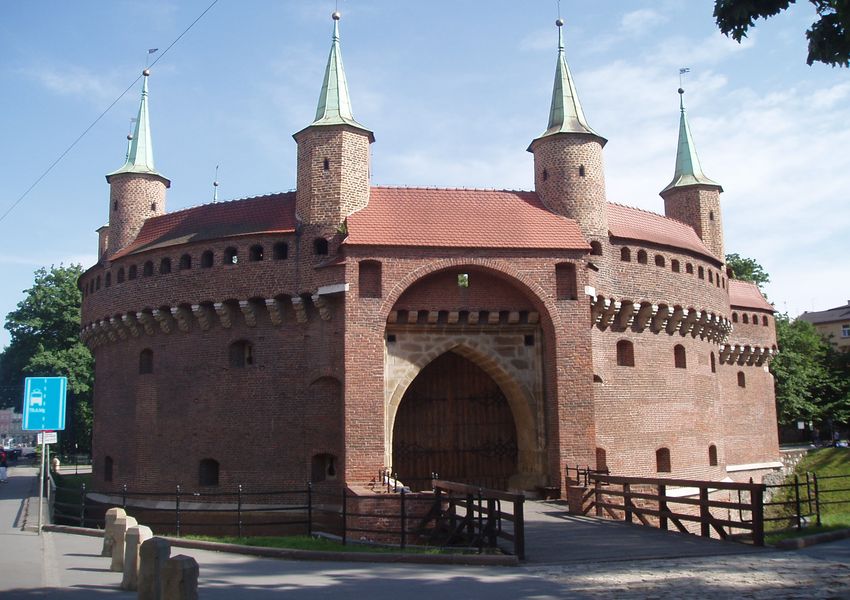 The Barbican was built at the end of 15th century (1498-1499) and it was the strongest element of the expanded fortifications in Kraków.
In the manuscript of Baltazar Bohem, there is an entry suggesting that the cornerstone was laid by the Polish king Jan Olbracht. Olbracht's involvement with the project and its progress is quite visible as he did not stint funds for the investment. Time was of the essence, as Poland was threatened by invasions of Wallachian, Tartarian and Turkish hordes whose plundering expeditions reached the borders of Lesser.
The Barbican is an unusual monument of defense architecture. It's an architectural design of a circle, ratio 6:10. Formerly, it was connected to Floriańska Gate with a neck. Its internal diameter was 24,4m and the external was 30m.
It was surrounded by semicircular, 26m wide and up to 6m deep moat. The moat was filled up, as the city expanded. In the underground part of the building there was a vaulted pass. It led to the gates, which allowed the crew to get pass the moat and escape the fortress.
Barbican was a fortress almost impossible to conquer. Its first test came in 1587 in the battle for the Polish Crown. Kraków's city walls were surrounded by the army of archduke Maksymilian--the royal line of Habsburg.
The Attack of his troops was repelled. The pretendant to the throne was forced to leave the city. Another important trial took place during the siege by the Swedish Army-(commonly referred to as "Potop Szwedzki" in polish history) in 1655. The troops defending Barbican had only surrendered because of the lack of ammunition and starvation. In 1768, during Bar Confederation Barbican was used to fight Russian forces.
Travelpoland.info offers - Flights to Poland - Bus and Coach - Hotels in Poland
Advertising - Top 3 Hotels in Cracow / Kraków
Advertising - Top 3 Hotels in Lesser Poland