Ojców National Park
Ojców National Park
is a national park in Kraków County, Lesser Poland Voivodeship in southern Poland, established in 1956. It takes its name from the village of Ojców, where it also has its headquarters.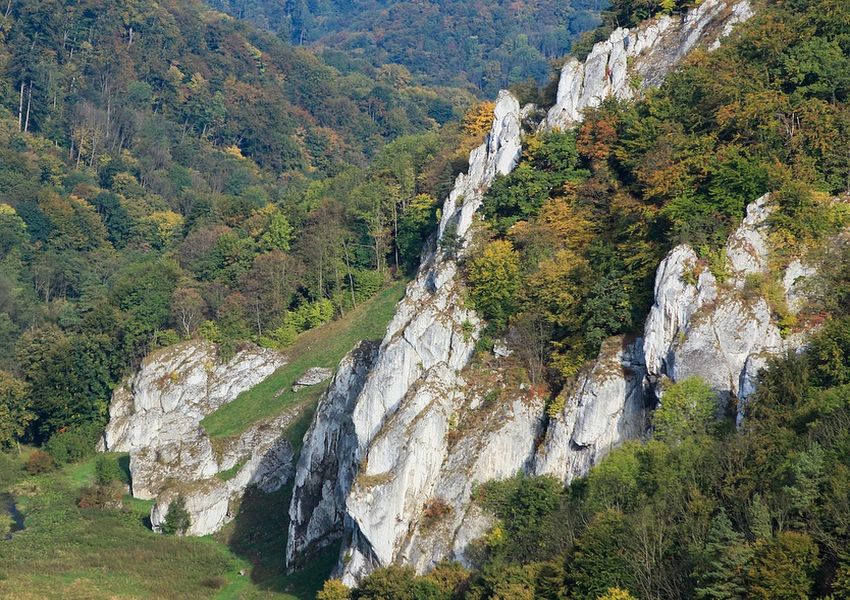 It is Poland's smallest national park, with an original area of 14.40 square kilometers (5.56 sq mi), since expanded to 21.46 km2 (8.29 sq mi). Of this area, 15.28 km2 (5.90 sq mi) is forested and 2.51 km2 (0.97 sq mi) is strictly protected. The park is approximately 16 kilometers (10 mi) north of Kraków, in the Jurassic Kraków-Częstochowa Upland.
Karst topography of soluble bedrock characterizes the park, which in addition to two river valleys (the Prądnik and Saspówka) contains numerous limestone cliffs, ravines, and over 400 caves.
The largest of these, Łokietek's Cave (said to have sheltered King Władysław I Łokietek, for whom it was named), is 320 meters (1,050 ft) deep. The area is also noted for its rock formations, the most famous being Hercules' Club, a 25-meter (82 ft)-high limestone column.
Ojcowski Park is very biodiverse; over 5500 species reside in the park.
These include 4600 species of insects (including 1700 of beetles and 1075 of butterflies) and 135 of birds. Mammals include the beaver, badger, ermine, and 15 species of bats, many of which hibernate in the park's caves during the winter.
The earliest settlement in the area dates to the Paleolithic, approximately 120,000 years ago. The Ojców region is rich in flint, which attracted early humans.
The park contains numerous castles, including a ruined Gothic castle at Ojców and a better-preserved Renaissance castle at Pieskowa Skała, both of which were part of a late-medieval system of defenses in southwestern Poland, known as the Trail of the Eagles' Nests constructed by the order of King of Poland, Kazimierz the Great.
Travelpoland.info offers - Flights to Poland - Bus and Coach - Hotels in Poland