Krutynia Route
Krutynia Route
is one of the most beautiful lowland trails in Europe of great natural variation, passes though Pisz Forest, behind Mokre Lake and flows into Masuria Landscape Park.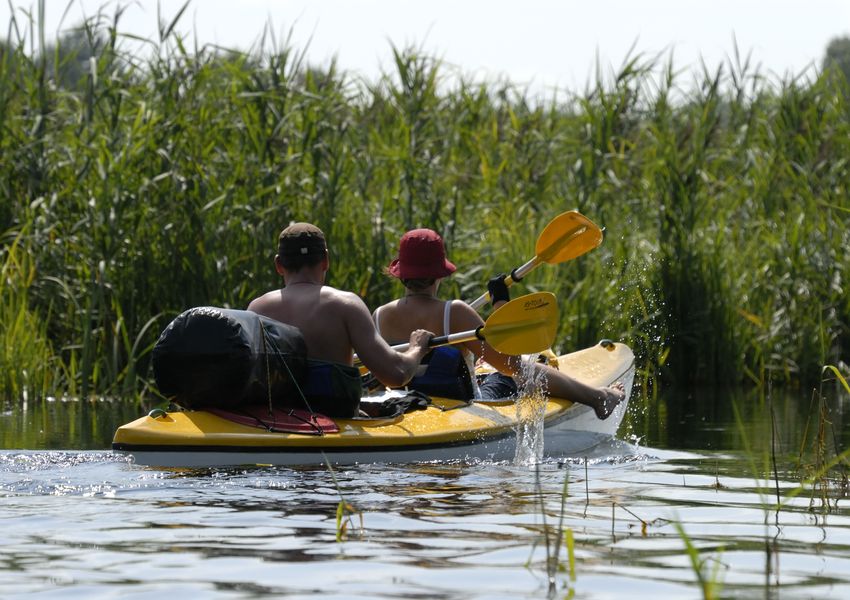 Along 102 km, of which 60 km are still waters, you can see many wonders from astonishing red algae stones in crystal clear waters to eagles sparing above.
The tour starts in Sorkwity at Lampackie Lake. There you can visit an evangelic church built around 1470 and a palace of the von Mirbach family built 1850-56.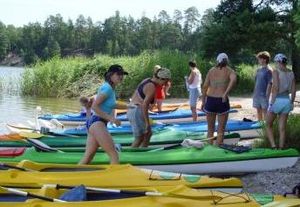 First you pass through Lampackie and Lampasz lakes to a shallow part of the Krutynia called Sobiepanka and awords the campsite at Białe Lake in Bieńki.
Further along the Krutynia you will see awe inspiring nature.
In Królewska Sosna nature reserve you encounter a 500-year-old oak and the most ancient pine tree in the region. Between Krutyńskie Lake and Ukta is the most beautiful part of the trail attracting many tourists from afar in flat boats pushed by local raftsmen.
On the way to Ukta you can visit an othrodox monastery in Wojnowo. And a few days leter, after passing the Guzianka Sluice our adventure comes to an end.
Program: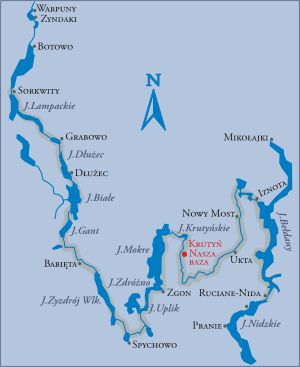 Day 1 Arrival to SORKWITY. Our guide is waiting for the participants at the camp site from 5 pm. You can get to Sorkwity from Olsztyn by bus or train going to Mrągowo.
You can get to the camp site from the railway station on foot, it's only 800m. If you are coming by car, you will be brought to Sorkwity from the AS-TOUR's parking space in Krutyn by our van.
Day 2 Sorkwity-Bienki
The first part of a kayak trip from Mlynik to Bienki is about 18 km and is passing some lakes, break for swimming and sun bathing in the afternoon;
Day 3 Bienki-Spychowo
The next part of a kayak truck is 22 km long is passing very picturesque lakes, like the Gant Lake and Gancka Struga.
Day 4 Spychowo-Krutyn 20
The most picturesque part of kayak trip through fields, meadows, hazel and rowan forests; the kayak route leads you through the Mokre Lake, one of the deepest in Masuria (51 m),
Day 5 Krutyn
On this day you will change the kayaks for bicycles and ride to the Mokre Lake for swimming and sunbathing and you ll visit to the Zakret Reserve of swamps and floating islands
Day 6 Krutyn Ukta 13km
Charming sinuous part of the river crossing Piska Forest; visit to the Wojnowo Monastery, old orthodox church of Philipon's sisters;
Day 7 Ukta-Kamien 15km
This part of kayak route is called Iznota or the Black River because of the dark river bed; break for lunch; the trip finishes in Beldany Lake the southern part of sailing track of Great Masurian Lakes; dinner at bonfire (sausages, provided by AS-TOUR)
Day 8 Kamien-Ruciane Nida 13km
Kayak route leads through Beldany Lake, passes historical Guzianka sluice and finishes in Ruciane Nida; transfer back to Krutyn or to the railway station in Ruciane Nida.
We provide the participants with:
7 nights on the camp sites (shower extra charge)
2 x dinner by the bonfire (sausages)
Transportation of the luggage during the kayak tour
Kayaks with all the necessary equipment
English speaking guide
All fees and entrances
Map
Info:
AS-TOUR - Canoeing Travel Agency
Krutyń 4
11-710 Piecki
tel/fax. +48 89 742 1430
mobile. +48 600 092 252
E-Mail: paddeln /at/ as-tour.de
www.masuria-canoeing.com
Travelpoland.info offers - Flights to Poland - Bus and Coach - Hotels in Poland